Sites & Rates
Open from May 1st to September 30th
Our campground features 44 RV Sites with power, water, picnic table, and fire pit as well as 28 Tent Sites with picnic table and fire pit. We also have 3 Group Tent Sites. Surrounded by full-grown pine trees, all sites are very spacious and beautifully located along Swift Creek. Please find a detailed description of each site below.
Our RV Sites include:
Pull through RV Sites
30 Amp Power Hook-Ups
Water on site
Fire pit and picnic table
FREE wireless internet
FREE hot showers
Rate based on 2 adults + 2 children under 12. $3 +tax charge for 2 extra children under 12. $5 + tax for all other additional guests. $3 +tax charge for dogs.
Our typical tent site includes:
One tent per site
Fire pit
Picnic table
Water nearby
FREE wireless internet
FREE hot showers
Rate based on 1 vehicle, 1 tent, 2 people. $5 +tax charge for additional guests. $3 +tax charge for dogs.
Our Group Sites have space for approx. 4-15 tents, depending on how closely you wish to pitch the tents. The price depends on your group size. Please contact us so we may assist you in booking your group.
Located along the creek
Water nearby
Fire pit and picnic tables
FREE wireless internet
FREE hot showers
All rates are subject to change without notice.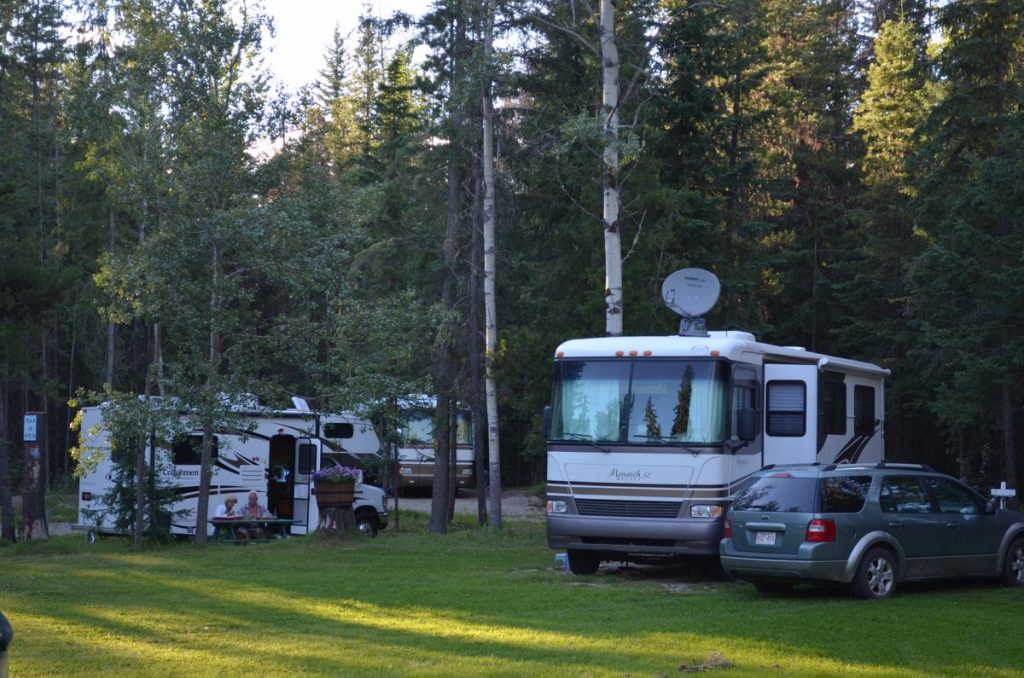 Campground Rules
CHECKOUT TIME 11:00 AM
SPEED LIMIT 15 KM/H * Please drive slowly due to children playing in Campground
PLAYGROUND: Opens at 9 am – Closes at 8 pm. Parents are responsible for their children anywhere in the campground. Parents please ensure your children stay within your camp site.
BIKES: Please return all bikes to the playground area by 8 pm. Bikes are for all children to enjoy, children to use appropriate bike size for their age and size.
PETS: Keep your pets on a leash at all times. Clean up after them anywhere they poop on the campground property.
WASHROOMS:  Children 12 years old and under are to be accompanied by an adult when using washrooms   NO children playing in or around washrooms/showers/ laundry area.  NO biking through breezeway. NO smoking in washrooms.
TRASH:  Please do not attract wild animals.  Your Campsite must be kept clean, place garbage in garbage bins located around campground.
RECYCLING: Bins located around campground for Bottle recycle only. Please do your part!
FIRES: Please keep fires at regulated size .5 meters x .5 meters. Never leave fires unattended. DO NOT move fire pits. Only burn wood or paper products in fire pits. Keep fire pits clean. Extinguish fires at nights. We reserve the right to extinguish fires.
PICINIC TABLES:  Upon departure please ensure picnic tables are placed where found when arrived to site. DO NOT put any cook stoves on picnic tables.
SWIFT CREEK:  No people or dogs in creek.  Do not scale creek bank or climb rocks on creek edge.  Obey all salmon spawning regulations there is a fine for anyone disturbing salmon in the creek.
VISITORS:  All Visitors must report to the office and check in.  Only one visitor vehicle allowed per site.  No Visitors before 1 pm all visitors must leave the campground by 9 pm.
QUIET HOURS:  10:00 PM TO 7:00 AM
BE CONSIDERATE: Keep your music quiet so only your camp may hear. DO NOT cut, notch or nail into trees.
SECURITY NOTE: Lock up all valuables and coolers at night. The owners of YELLOWHEAD RV PARK & CAMPGROUND will not be responsible for fire, theft accidents to persons or property, vandalism or any act of God.
BLACK/GREY WATER: Do not dump any grey or black water in the campground except at the Sani dump located at the Wash house.